Park City, Utah is world-famous for four things: the U.S. national ski team, winter sports, the Sundance Film Festival, and last but not the least, the exciting local culinary scene. Today, we're checking out unique food adventures Park City has to offer.
Here are four of the best and most exciting restaurants that you should try this summer.
Vessel Kitchen
1784 Uinta Way #E-1, Park City, UT
Founded in 2016, Vessel Kitchen promises "comfort food made new," served in a setting that's a happy medium between casual and fine dining. More refined and thoughtful than down-home food but just as relaxed, it's an environment where you will want second helpings of your healthy and "healthy-ish" fare.
Using locally sourced and seasonal ingredients, Vessel Kitchen elevates crowd favorites and classics. Choose from signature plates like Hash Hash (their take on braised beef and sweet potato hash), and Chicken and Grains (shredded chicken, coconut rice and spicy green sauce). Walk-ins are welcome, but book for larger parties. They deliver, too!
Cortona Italian Café
1612 W Ute Blvd #112, Park City, UT

Feel at home at Cortona Italian Café. This cozy spot near Kimball Junction is best-known for their classic Italian dishes, made from recipes passed generation to generation.
Whether you're dining in or ordering food for delivery or curbside pick-up, don't forget to try the Cortona classics: Nona's meatball with parmesan cheese and homemade sauce, their four-sheet and cooked-to-order lasagna, cannoli made with shells imported from Sicily, and the housemade gelato, available in several flavors.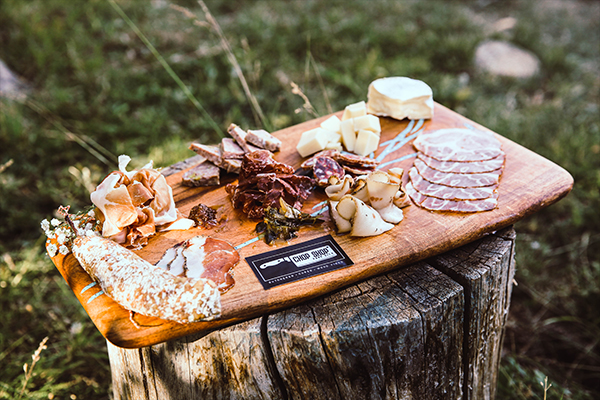 Chop Shop Park City
Newpark Town Center, 1177 Center Dr, Park City, UT
Chef John Courtney worked in several well-known restaurants such as Hattie B's and Carson Kitchen in Las Vegas before coming on board on this latest venture.
Along with co-owners Chuck Heath and Dan Ibach, Chop Shop Park City takes the humble concept of a butcher shop, turning it into a communal celebration of cured meat and cheeses. You'll have a great time browsing through the best cuts of meat in Park City and assembling your own custom charcuterie board.
Chop Shop Park City's special curated trays all come with house pickles and crusty bread, perfect for date night or party night. Dine-in and curb-side pick-up are available.
Twisted Fern
1300 Snow Creek Drive, Suite RS, Park City, UT
You will love the clean dining offered at Twisted Fern, owned by chef Adam Ross. "Creative, conscientious New American cuisine" is what this restaurant is all about. With sustainability and conscious living at the core of his food philosophy, you'll be treated to a farm-to-table dining experience that features the best and freshest of local ingredients cooked in creative and thoughtful ways.
Don't miss their pumpkin risotto and their butternut shakshuka.
Dine-in, patio dining, and curbside pick-up are available. Reservations recommended.
We've got more gastronomic recommendations in Park City that we can't wait to share with you. Get in touch with Team Schlopy today to learn more. Call us at (435) 640-5660 or send an email to info@teamschlopy.com.