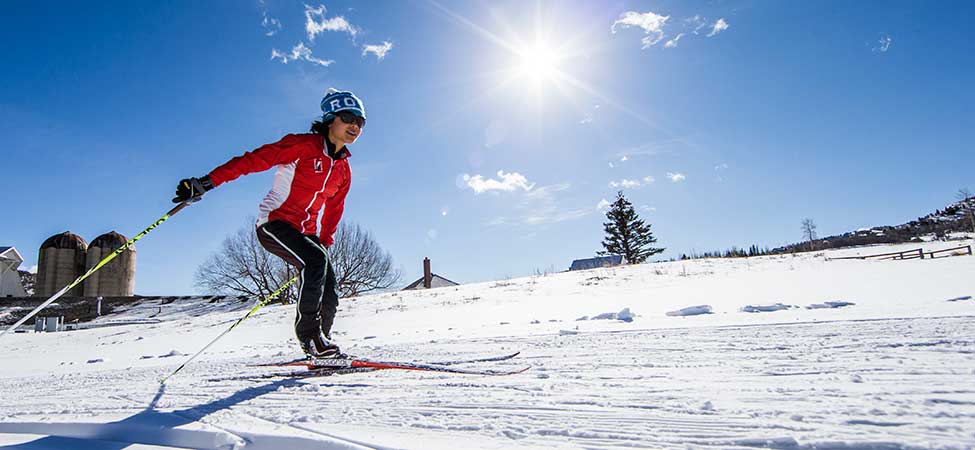 Welcome to Winter's Favorite Town, Park City, Utah. It is the place to be for recreation year-round, but winter in Park City offers many diverse forms of recreation.
Park City sports a variety of shops, museums, galleries and over 150 restaurants, And sports, probably the most popular being cross-country skiing.
A great way to battle the winter blues and improve the body and mind, cross-country "provides whole body activation, excellent neurological benefits from repetitive movements that require careful coordination, and multiple psychological benefits, including empowering people to break free from winter isolation," Dr. Paul Anderson, a preventative medicine expert at The Mayo Clinic.
Equipment
Basic ski packages, including boots, skis, poles, and bindings can be purchased for as little as $250.00. Depending on the skis, wax may be required and a helmet may be something that a beginner wants to look into purchasing. Most resorts and parks also rent equipment for a daily price of about $15.00.
Before heading out for the adventure there are some items those who want to reap the benefits of cross-country skiing need to make sure they have on hand:
A good jacket offering wind resistance, moisture-wicking properties, and when colder a waterproof jacket.
Wind resistant pants made of breathable material
A light hat and gloves
Breathable wool socks
Sunglasses or goggles
And sunscreen
Water
Venues
Park City provides novice skiers as well as expert athletes, several areas to produce a great aerobic skiing workout, train for an upcoming event or just enjoy a calm day with the dog going down the trails.
Soldier Hollow Cross-Country Skiing Resort is one of the top 12 cross-country ski destinations according to theClymb.com. Trails and training tracks designed for all levels of expertise in the sport make it one of the best destinations for cross-country in the US. Almost 50 miles of maintained and tracked trails, Fodors also counts it as one of the top 10 most scenic journeys to take on skis.
US Olympic Gold Medalist Billy Demong, designed an amazing track to utilize the golf and country club at Jeremy Ranch Nordic Center. Basin Recreation connects the Olympic Park with Willow Creek Park. Or for a more demanding workout, Round Valley offers rolling hills and steep treks.
There are over 70 miles of other tracks, spanning several parks and recreation areas. Many areas are free to use and many offer amenities such as equipment rental, instruction, and guides. And for those looking for a more primitive adventure, the Uinta Mountains and the Rockies are only a stone's throw away.
Cross-country is not the downhill rush of a slope, but it is the natural adrenaline fix that can be found all around Park City. Get closer to the action by purchasing your ideal home in the area. Team Schlopy has the best experience needed to close on your dream home for the right price. Contact us on  (435) 640-5660 or send an email to info@teamschlopy.com.